My interest in walking in the footsteps of Lady Anne Barnard was prompted by my admiration for her extraordinary and rather eccentric gesture of walking up Table Mountain. Table Mountain was also on my bucket list: even having lived in Cape Town in my (very) early years, I had still never been up the mountain, something most tourists do as a matter of course.
In May 1797 Lady Anne wrote in her diary:
"All I asked as a reward for my correspondence in his [Lord George Macartney] absence, which I had two opportunities of continuing was that he should accompany me to the top of Table Mountain before he went, where no white Woman had ever been … This he agreed to with Joy, as a Botanist & Mineralogist and Barnard to render the plan still more interesting to me, procured a dozen Slaves to carry up a tent … mattress … Blankets, a little Table and a camp stool together with provisions that we might sleep on the top of the Mountain and see the Sun set & rise, when I could have the opportunity of making what drawings I pleased." (217-8)
She would be the first white woman (as far as we know) to undertake the climb. It was one thing, however, for a middle aged, aristocratic Scottish woman of the late eighteenth-century to fantasize about climbing Table Mountain, and another for her to do so. At 3558 feet high, and with a very challenging terrain and wild life in 1797, Table Mountain would have represented a real threshold for most people. Would Anne Lindsay have taken on the challenge so blithely had she not grown up in a wild countryside in the East Neuk of Fife? Perhaps not. But dressed in her husband's trousers, her shoes tied on with tape and carrying an umbrella, in May 1797 Lady Anne climbed up Platteklip Gorge to the top of Table Mountain in the company of her husband, Sir John Barrow (colonial administrator, global explorer, and author of Mutiny on the Bounty), two naval officers, her maid, a couple of servants and several slaves (straining under the weight of fish, cold meats, Port, Madeira and Cape wine).
Below (in 4 contiguous photographs) is Lady Anne's panorama watercolor of Cape Town and Table Mountain as she saw them from the Castle, her home in her first few years at the Cape, painted between 1798 and 1802. The dimensions of this beautiful panorama are extraordinary – it consists of 7 sheets each measuring 2' 3½" x 1'8½" – and a copy can be seen in a small gallery devoted to Lady Anne's paintings in what is today the Vineyard Hotel (http://www.vineyard.co.za/), once a summer house built by the Barnards in 1800 in the "new lands," now the suburb of Newlands.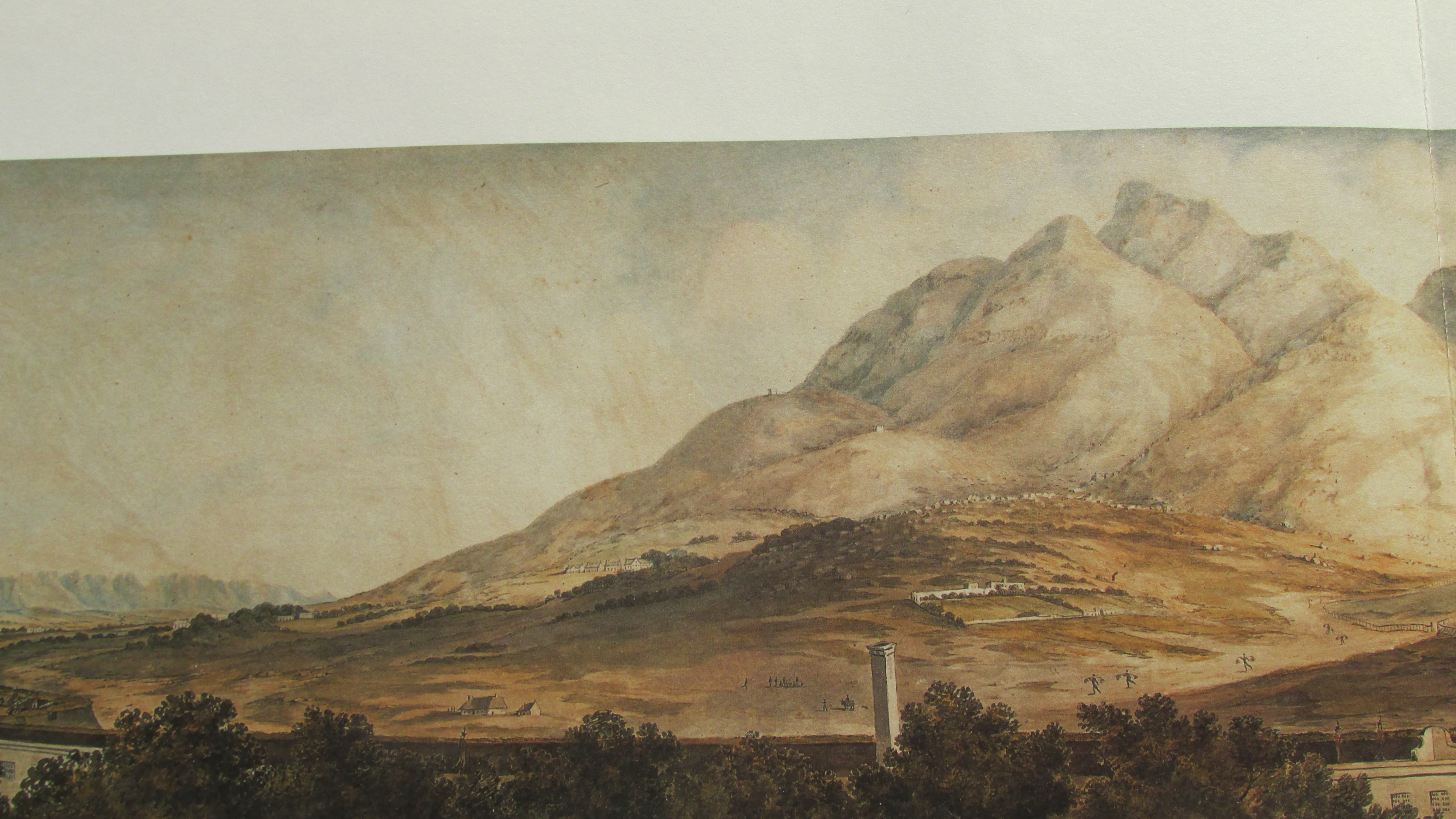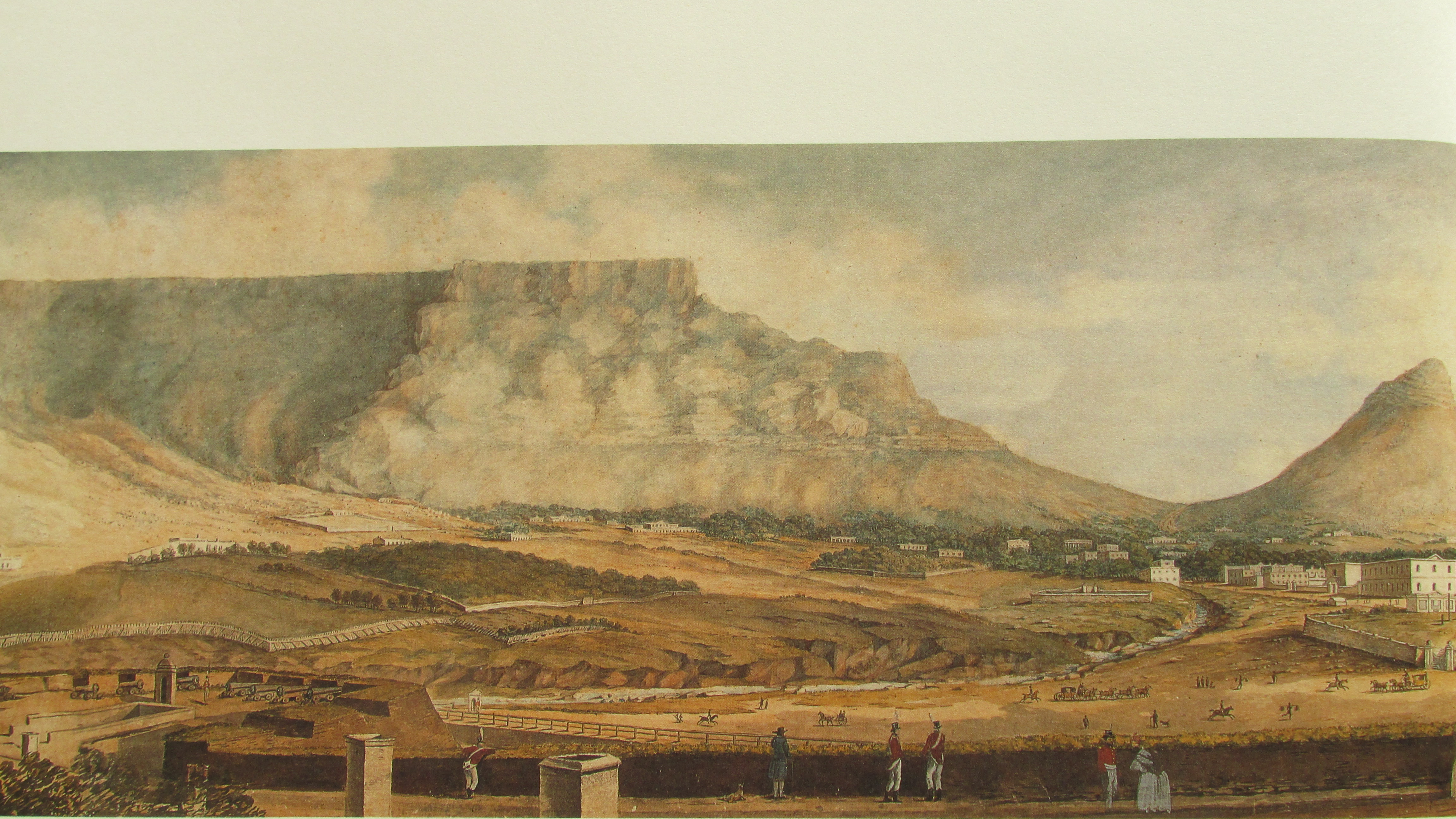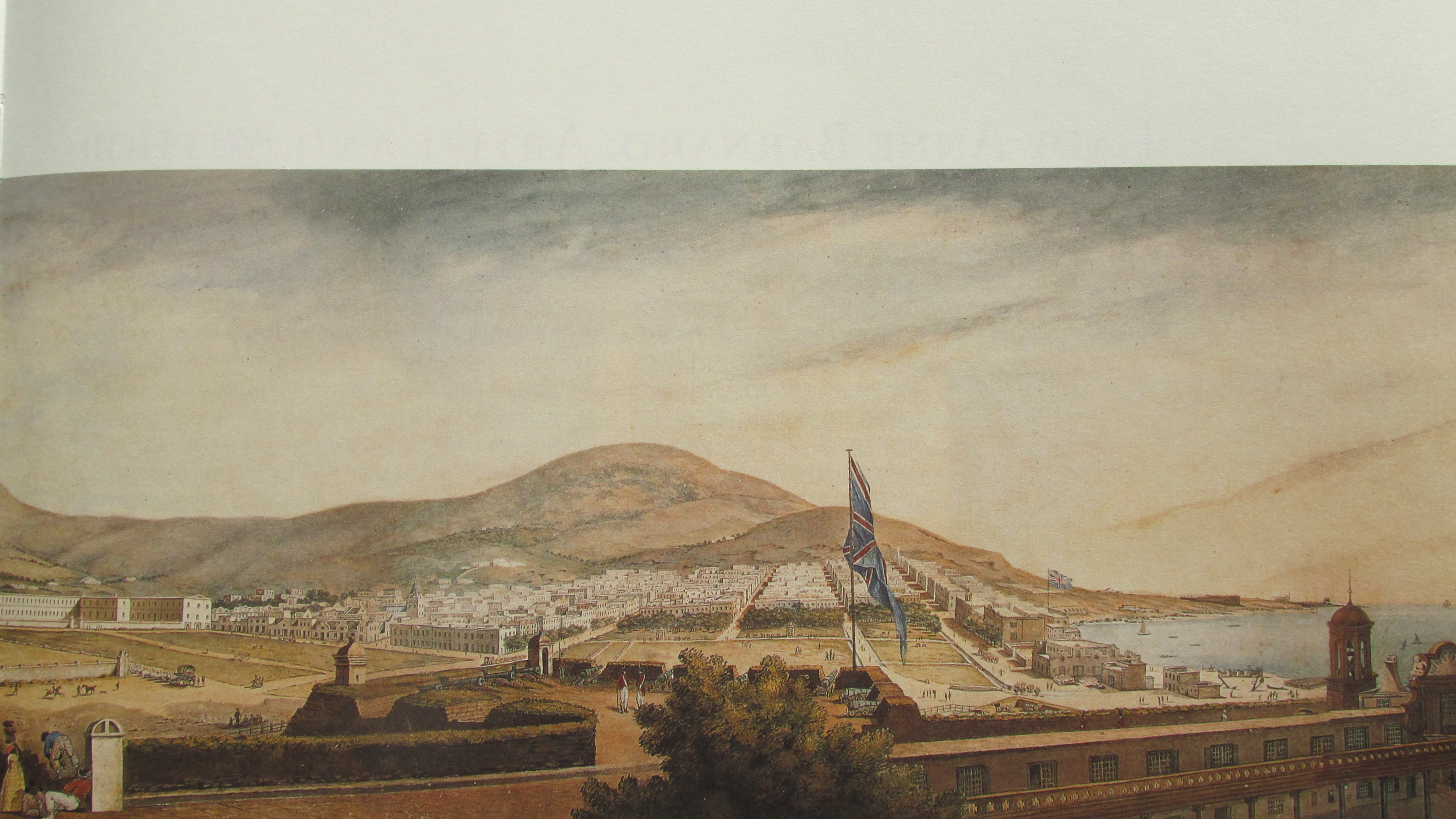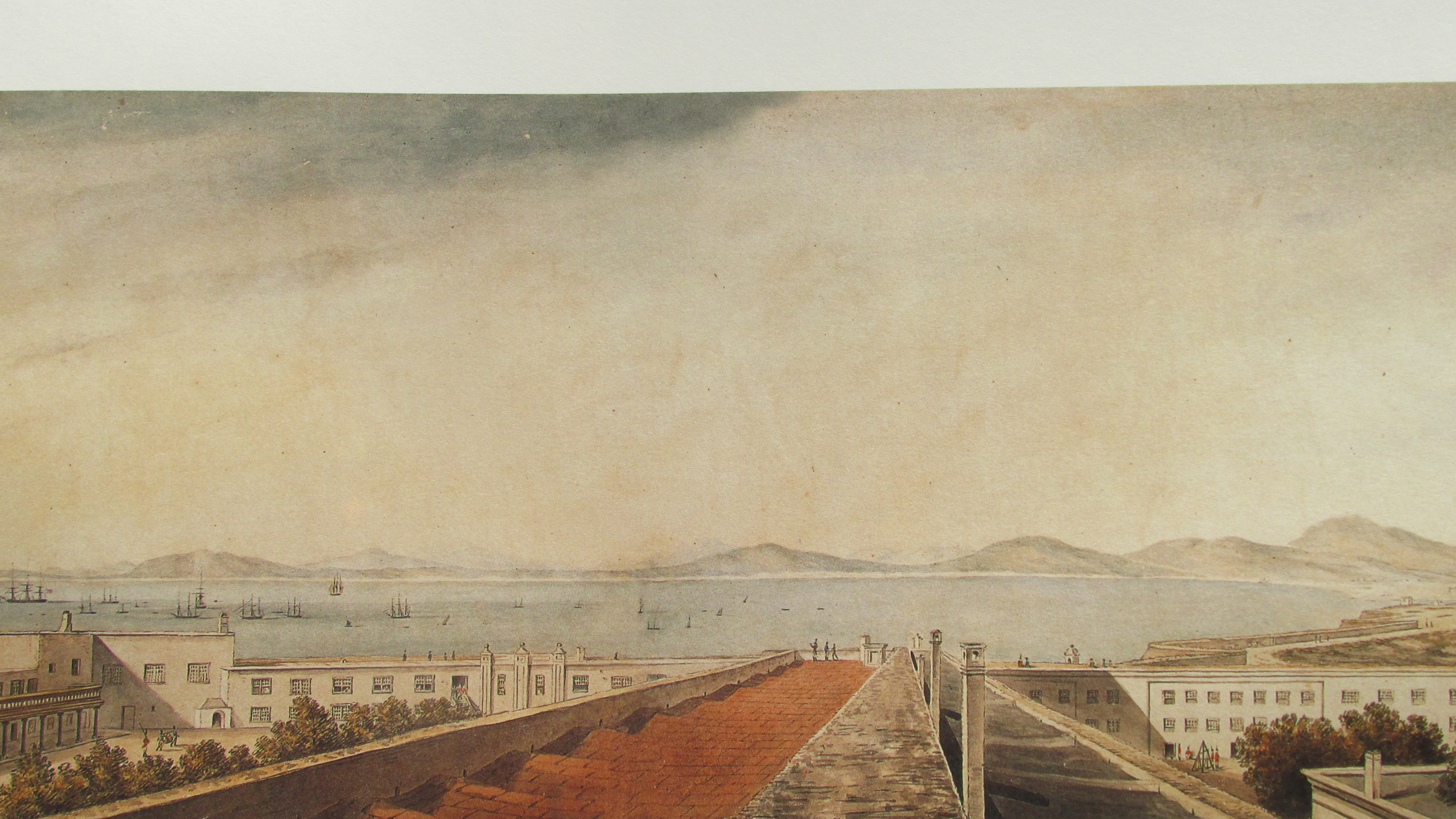 We had explored the possibility of sleeping up on the table part of the mountain, but the entire area, from Cape Town City centre down the Peninsula to Cape Point (about 70 km), is now a National Park, and overnight camping is carefully controlled, only possible in designated and, for our purposes, inconvenient areas. The following image gives a sense of the extent of the main mountain range, taking in Lion's Head on the right, Table Mountain in the centre, and Devil's Peak on the left, with the Twelve Apostles extending into the distance on the right. Our point of ascent, Platteklip, is on the far right of main "table" section of Table Mountain itself.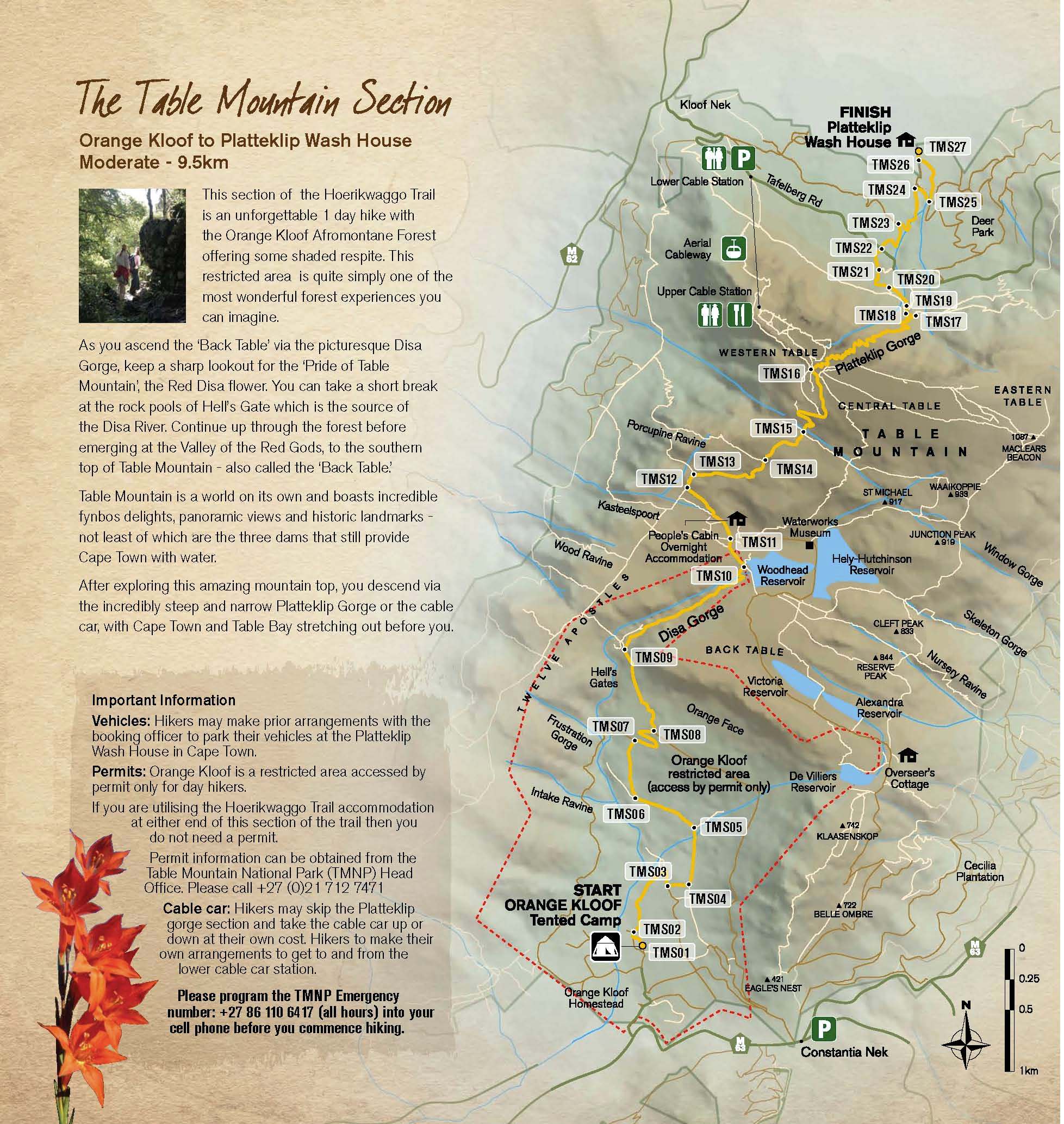 On a cold, rainy, and foggy Saturday in mid-May an old friend, Lawrence H, and I climbed up Platteklip Gorge, as Lady Anne Barnard had done 218 years before. Our plan was to ascend very early, in order to see the sunrise, and to take the last cable car down, in order to take some photographs of the sunset. But the best laid plans often come to naught. Because the day was rainy and foggy, we ascended almost entirely enveloped in fog, and the clouds that often hover on the brow of the mountain in inclement weather or when a south east wind is blowing, hovered for most of the day (see image below)—but cleared sufficiently in the afternoon for us to have some spectacular views and get some good photos.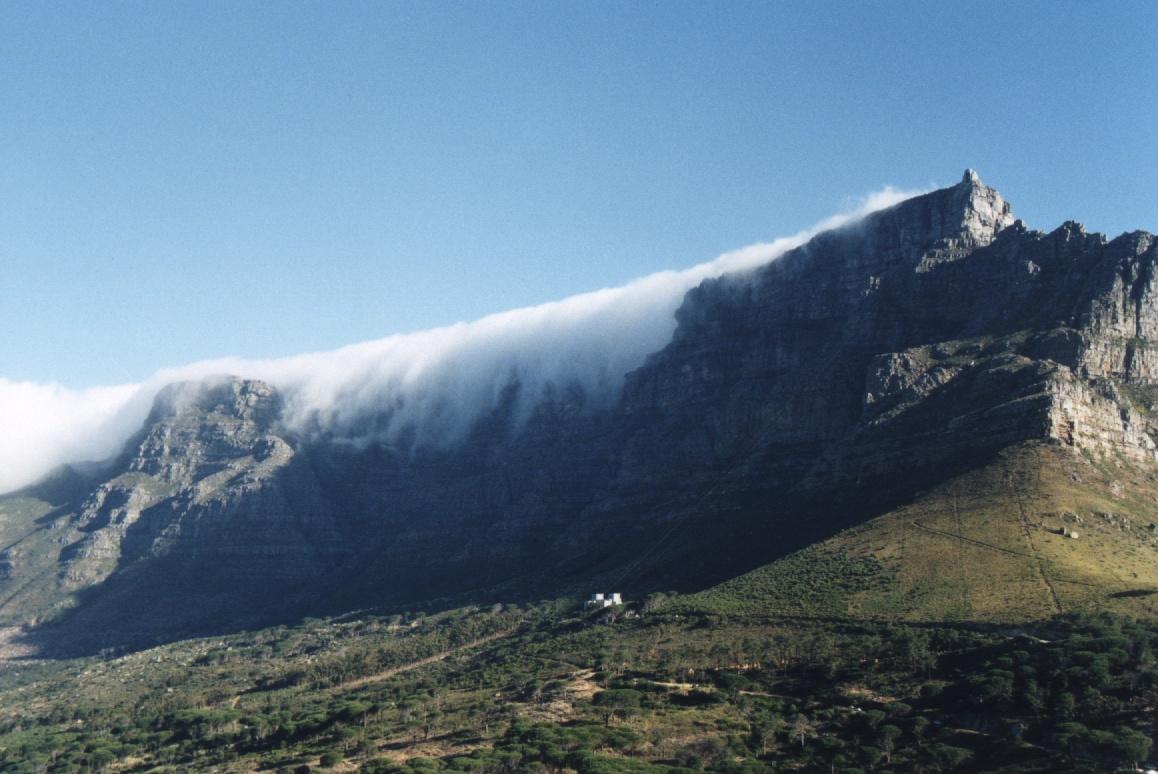 Platteklip Gorge is the most direct route up the mountain (there are several others), but it is probably the most difficult—very steep, very rocky, but (once the clouds cleared) offering spectacular views over the city and Table Bay and of the sheer mountain face on both sides of the gorge. We set off each carrying a back pack with extra clothes, rain coat, water and various liquids to replenish electrolytes, and our lunch. (Click on the images below.)
Though Lawrence H and I are both deep into our middle age, we are fairly fit and energetic; but "walking up" Platteklip Gorge was extremely difficult. Very soon we realized that we needed to break our climb up into short intervals, manageable units to give us something to aim for; so we stopped every 15 minutes for some liquid replenishment and some talk.
Among other things, our talk returned to the extraordinary Lady Anne Barnard, whose eccentric desire to walk up this mountain, at the age of 47, quickly took on a different significance for us, as we faced the limitations of our own bodies struggling against this sharp, unforgiving terrain, but limitations that eventually gave way to an almost blithe sense of freedom.
Lady Anne had a similar response when encountering this terrain (which would, of course, have been more wild and unformed in 1797): "The ascent became so tremendously steep that we were obliged to dismount and send out Horses back to the Castle, scrambling up amongst rocks where hasty Cascades tumbled down and lost themselves in gullies beneath" (220). She nonetheless had the awareness to notice and record the natural beauties: "The air was perfumed with the most delicious fragrance of numberless bushes which composed a concord of Aromatic harmony perfectly wild and such as no one can imagine to themselves" (220).
Fresh (and sodden) as the air was we did not have access to the same "perfumes" as moved Lady Anne, but we saw some of the same flowers as she did. "We ascended for the first mile by a winding path thro rocks each side of which was clothed with the Waggombomb [Protea grandifora] with its bright yellow flowers … the Silver tree, whose leaves have the appearance of white satin, and the Sugar Tree [sukerbossie—protea mellifera] which was covered with beautiful pink flowers with pink seeds …" (219-20).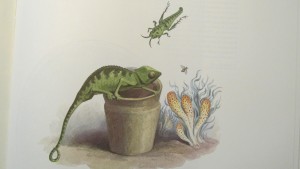 "While Barrow," Lady Anne says, "darted at plants & fossils in hopes of finding something to report favourably to the Governor, I got out my pencil to draw the Rocks and Jacalls" (220). She also drew the chameleon, locust and "Cokimacranchi," pictured here.
Arriving at the summit of the mountain, after more than two hours of physical exertion, is something of a triumph, and a rather expansive feeling. This is how Lady Anne Barnard put it: "After crawling up an immense sheet of small stones, almost perpendicular (stones broken into powder by the force of the torrents which the clouds discharge in volumes during the rainy seasons) we proceeded up thro' the gulley which nearly cuts the Mountain in two and began to rise above the World" (220).
As one emerges from the increasingly narrow gulley on to the plateau, "the weather was mild and charming, the Sun now fully risen warmed us with his fervent rays which the mountain threw back on us with intolerable heat … What a wide extended bareness presented itself all around! … Oceans … points of Coast … and hills were the only objects the eye had to dwell on … The Lions head (a high Mountain) appeared a mole hill beneath …
… to behold a considerable Town more invisible than the smallest miniature which could be painted of one … to feel the pure air raising one up, it gave me a sort of unembodied feeling such as I conceive the Soul to have which mounts a beatified spirit leaving its atom of clay behind. The view the sensation was full of aether …" (220-21).
Lawrence and I had our own sense of light headed and light heartedness on alighting on this great mountain after a climb of about 2 hours and 15 minutes.After allowing our limbs to unwind, and our eyes to take in the expansive views extending down the peninsula towards Cape Point and across Table Bay towards Blauberg, we changed our clothes (sodden as much by our perspiration as by the mist) for clean and dry ones. The warmth of the clean sweater after physical exertion was a comfort and pleasure.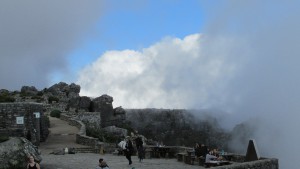 We found a spot, with a view over Sea Point and Clifton, to have our lunch–cheese, tomato and pickle sandwiches, miniature spinach quiches, energy bars, fruit, and a fresh bottle of Cape white wine. We were so dehydrated that we scarcely felt the effect of the bottle of wine.
While eating we were visited by some of the local wild life.
After lunch we strolled around enjoying the view on all sides of the visitors area of the upper cable station; a few visitors had come up by cable car. We read a plaque commemorating World Environment Day 1998 bearing the words of Nelson Mandela bequeathing the Table Mountain and Cape Pensinsula National Park to all the peoples of the earth for their enjoyment and their protection.
This view straight down to the place from which we had started was steep enough to instill vertigo.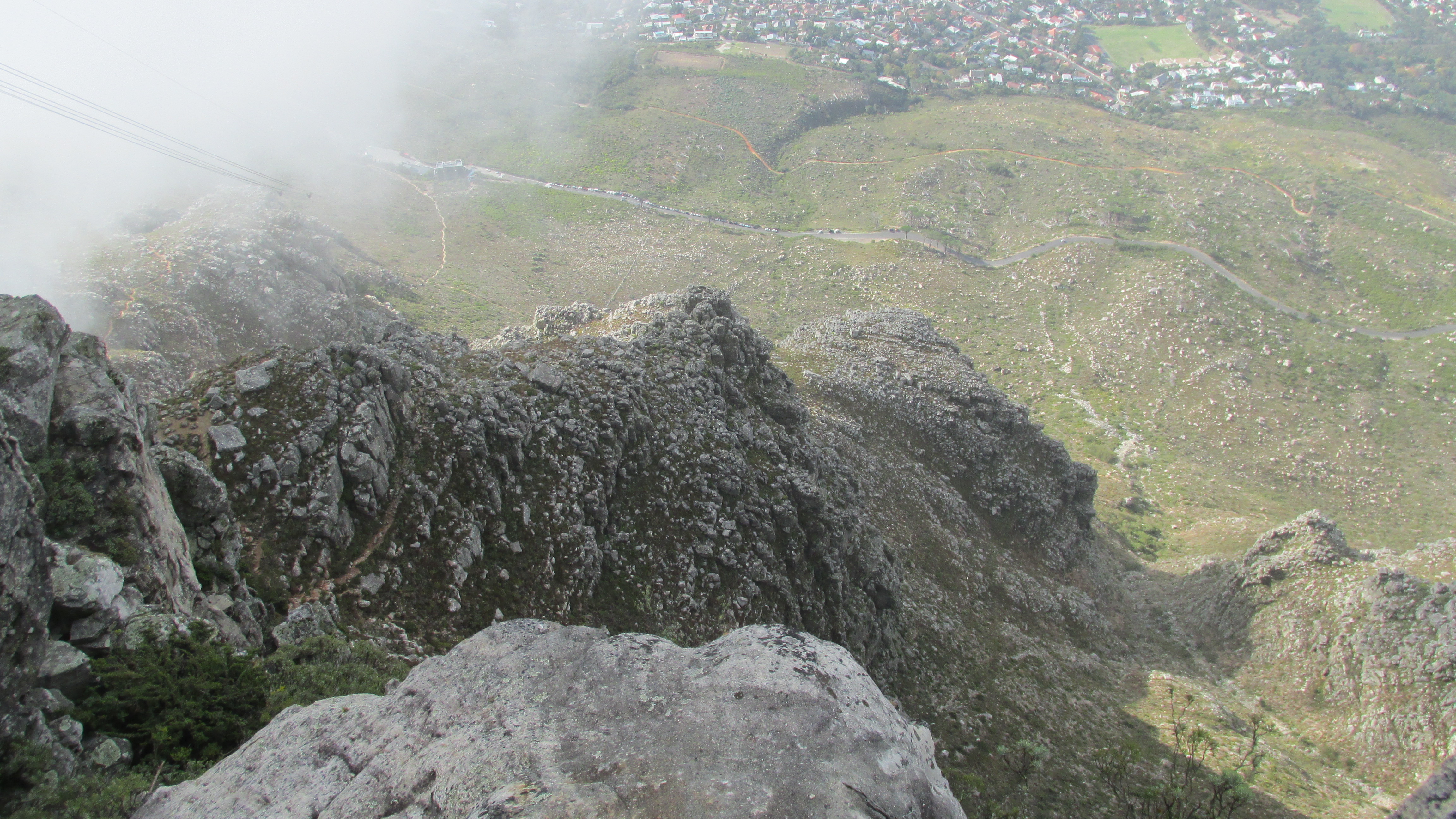 We could see the Castle that had been Lady Anne's home at the time of her climb.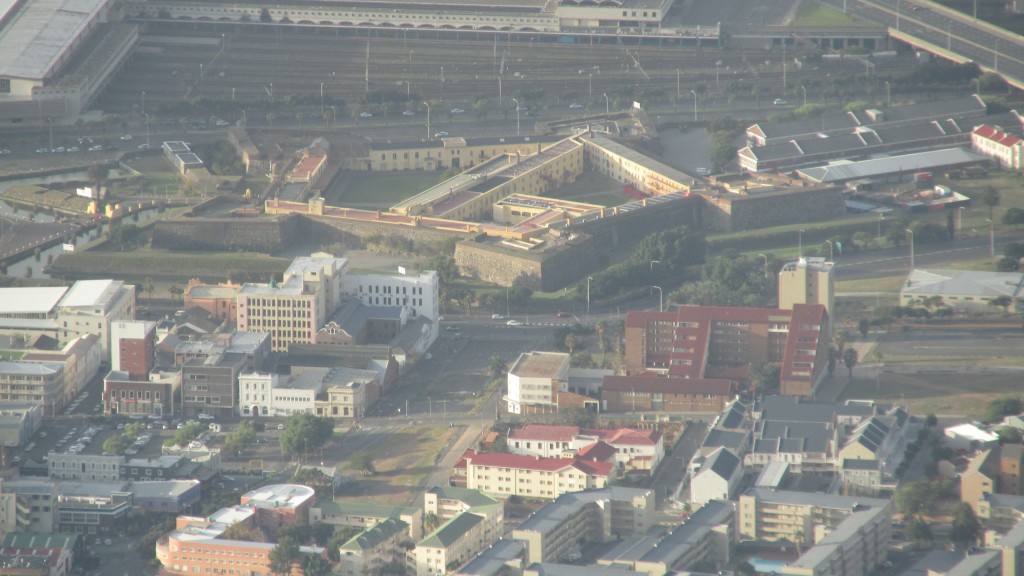 … the harbor Victoria waterfont …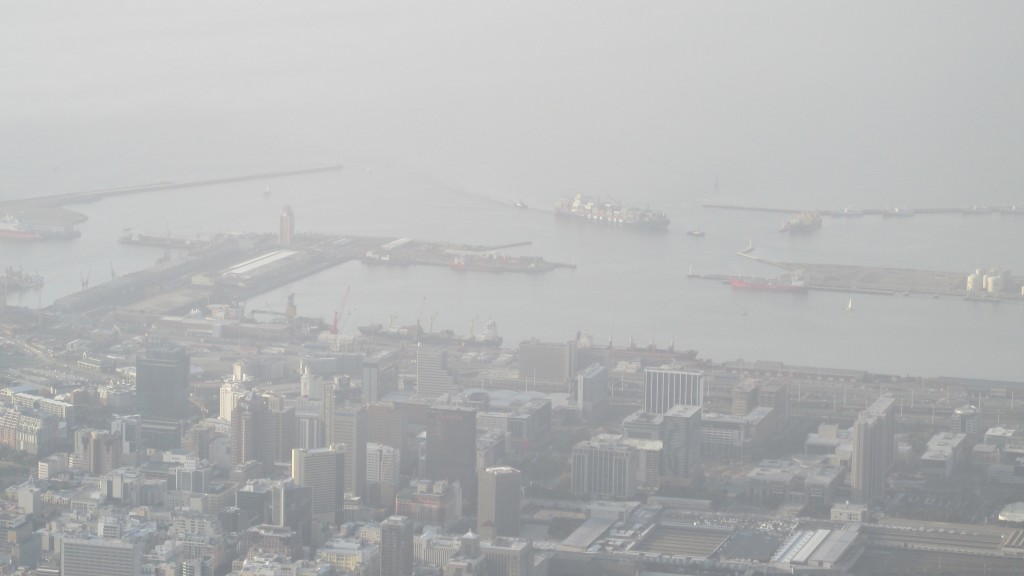 … and the football stadium that featured in the World Cup of 2010.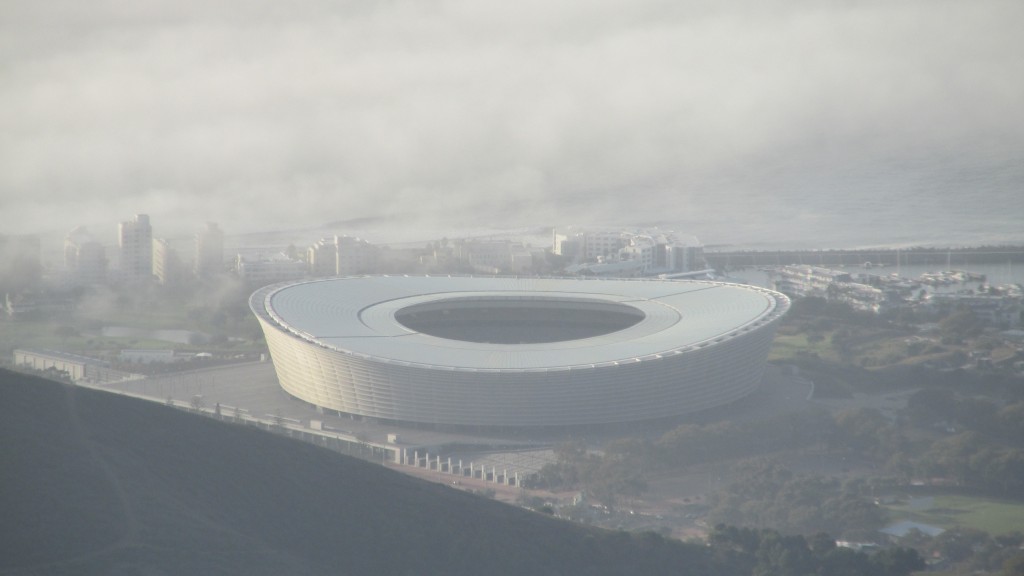 The Barnard party made the most of their day on the mountain. They explored some caves "where Slaves who had run away for crimes hid themselves" (221), collected plants and fossils, hunted "there was a gun to shoot birds," hunted for plant specimens ("here was spade for me to dig bulbs" (221)—"not on its grassy or rocky top, but on its watery top, it being almost entirely covered with a thin pool about two inches deep where succulent plants grow in abundance, but pebbles of a very pure white, some of which I carried away with me seemed to be the chief product of the Soil" (221).
Guided by Sir John Barrow—author of Travels in Southern Africa (1806), among other works of exploration, who produced the first published map of the Cape Colony, and described by Lady Anne as "thou Man of infinite Charts and Maps"—Lady Anne identified all of the geographical features she could from the summit of the mountain, including Robben Island, "not above a mile or two round, and it is here that Vessels perform quarantine when suspected of having infectious distempers on board, particularly the small pox of which the inhabitants of the Cape have a horror beyond all belief, owing to its having on two occasions swept away the greatest part of the Settlers" (222).
Quarantined ships in Table Bay feature frequently in Lady Anne's diaries, as they do in her drawings … her response to these events powerfully imagined by the poet Antjie Krog in "Lady Anne Barnard looks out on Table Bay:"
A new ship arrived
I prepare parcels and letters
(oh the coming and going of ships
'latest' newspapers, letters
— the written word the only harbor
of the traveling heart)
then the smell hits us …
On the mountain, some of the men returned before nightfall, leaving behind Lady Anne, Andrew Barnard, Sir John Barrow, and some others. While "Pawell and the Slaves" pitched our tent on the top of the Mountain on a bit of dry ground" Lady Anne "pitched the little Camp table Barnard had procured for me and with my Sketch book and colours traced the effects of the setting Sun before he dropped into the Ocean, which encompassed us almost in a Zone round the Peninsula where we were placed" (223).
I have, as yet, been unable to locate these drawings of Lady Anne's in any archive, and hope to find them in the library at Balcarres House, her ancestral home in Fife. I regret too that the weather did not permit us to see the spectacular sunset we imagine Lady Anne to have seen, which might have looked like this: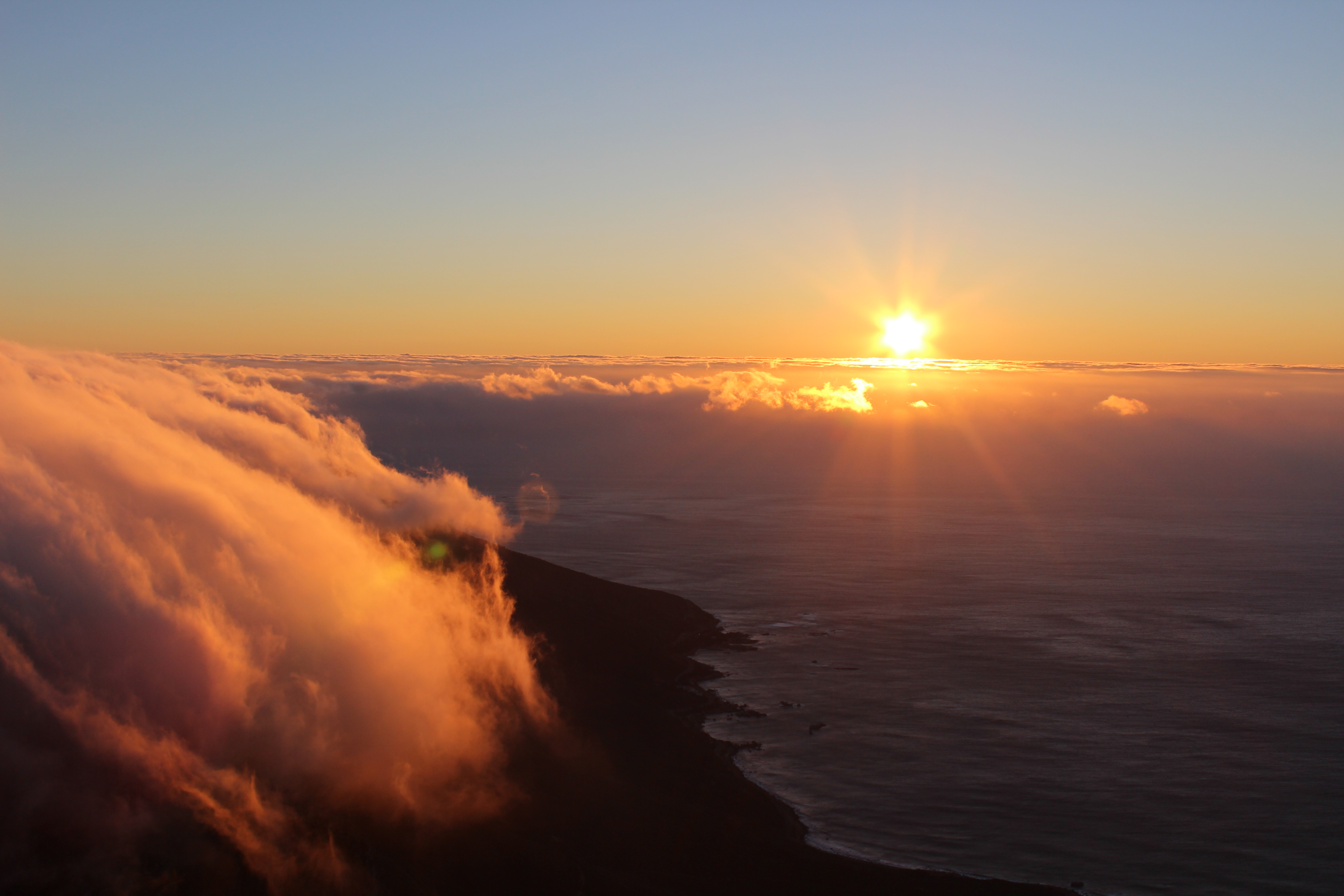 After toasting the King for dinner they enjoyed "40 Snipes" fried in a pan, and they "begged the Slaves might have our nice rump of beef, fowls and ham, but not one of them would Scoff … they shook their heads with a look of horror … 'nae … nae' … and I found that owing to the ham having been put up in the same basket with the other articles evry thing was contaminated to them" (223).
But nothing would dampen Lady Anne's intrepidity, and she was more than willing to partake of the slaves meal: "But they too had their pan, and their stew, which smelt so savoury, and so odd, that I begged leave to taste it … It was composed of wild herbs fried up with coriander & Many aromatic seeds, to which was added a little mutton tail grease which is more pure than butter and plenty of the fish called snook which I thought when salted and dried was one of the best fish at the Cape" (223). "Moye Scoff yafrouw moye Scoff," was the response of Lady Anne's local assistant (223).
Apparently unthreatened by wild animals, the slaves "lay down round the fire" while Lady Anne and her husband "within our tent found a good bed, on which two hearts reposed themselves … truly grateful for all the blessings conferred on them, but most so for their happiness in each other" (223).
On the way down Lady Anne wore a pair of her husband's trousers ("Hey day Anne … what are these? Yours … myne lieve Friende") and slid down part of the way on her behind. But she also stopped to sketch the bay from the mountain, a representation [possibly taken from Zorgfliet, the home of Hendrik Eksteen] that stimulated the governor Sir George Macartney to go and look for himself: "he was pleased that I had taken a Sketch at the House of a Dutchman as I had descended the lower part of the Mountain … he had never beheld a drawing of the Cape … except from the bay where the Town and square hills behind, were the only objects, whereas my Sketch faithfully tho' badly copied from the original gives a perfect Idea of the Town—country …" (224).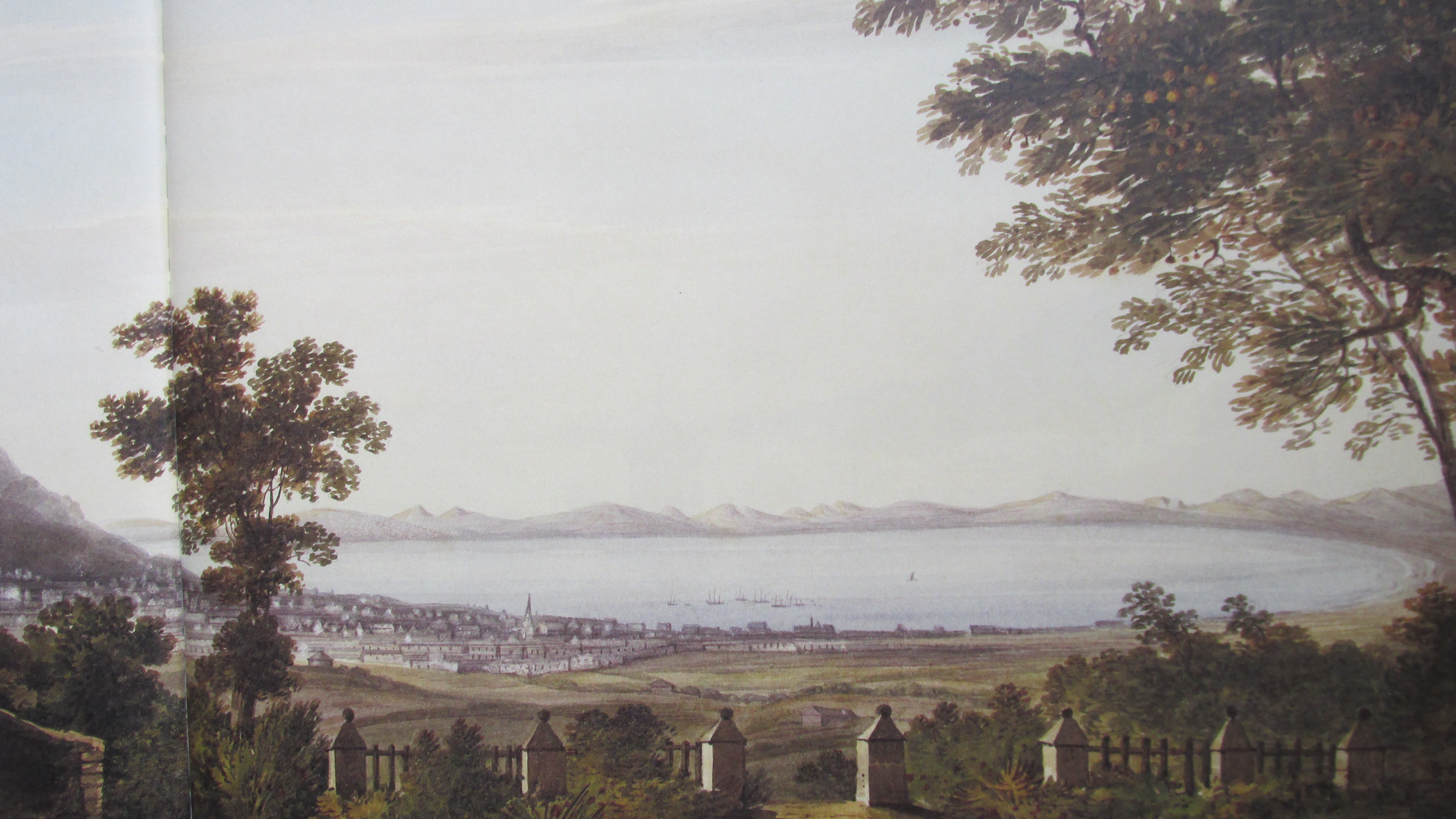 One understands Lady Anne's point. The mountain being so imposing and impressive, the tendency is to direct one's attention or one's camera in that direction, as she has done in this watercolour of the Theatre in Hottentot Square (now Riebeeck Square), build by the governor Sir George Younge in 1800.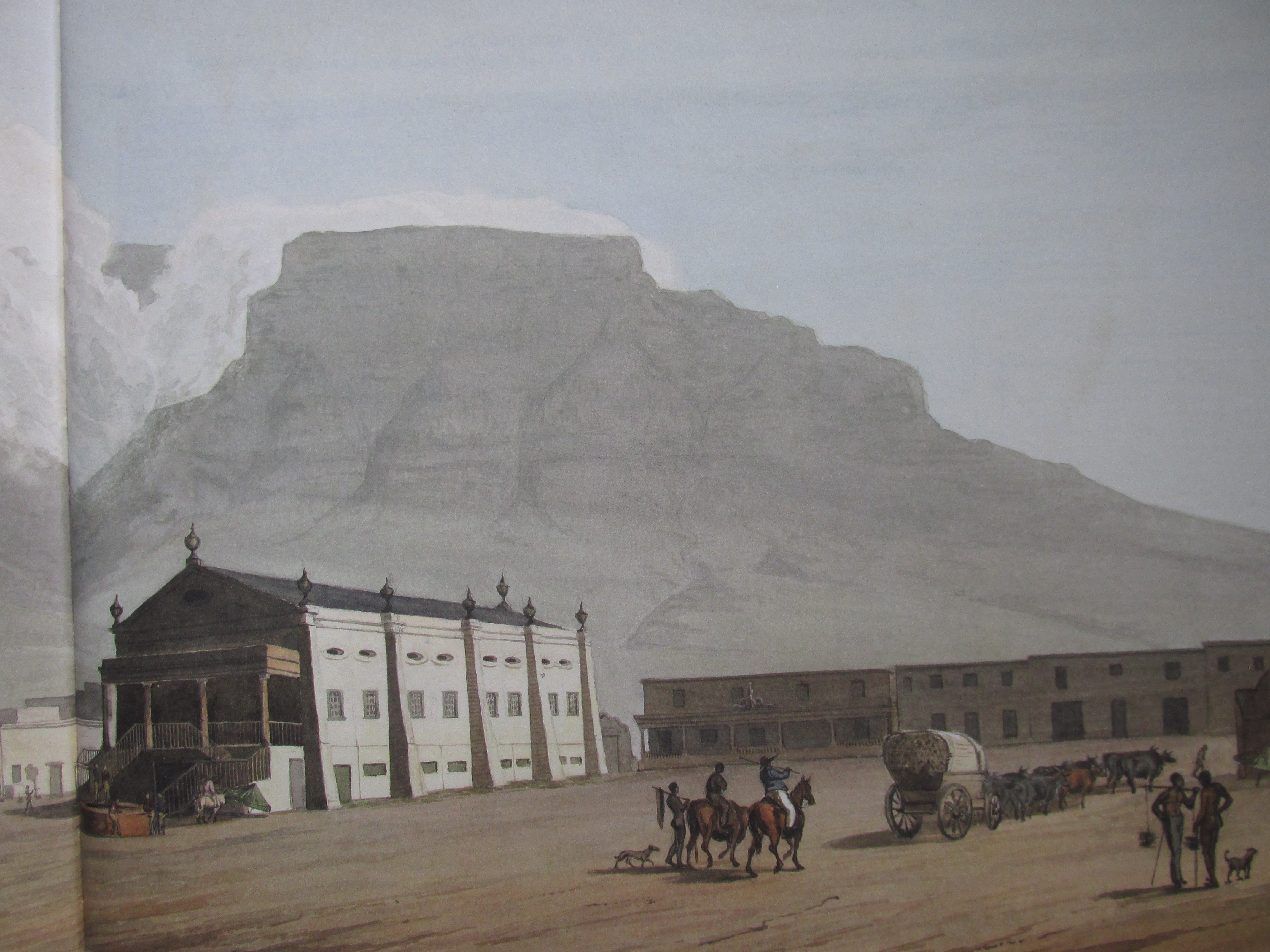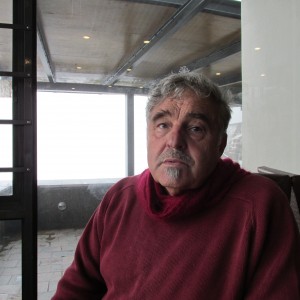 Late in the afternoon of our climb, Lawrence and I had a cup of coffee at the cafe to warm ourselves, before taking the cable car down.
We talked of times past and times to come; and I read Antjie Krog's poem, "'I think I am the first women'—Lady Anne on Table Mountain," which includes these lines:
the climb wipes out
everything between us
we become part of the slippery tongue-talking mountain
my blood pulses thinner than thin
as we go higher and higher
your secure footsteps always in front of me
skullwet rain along our hot throats
from Platteklip ridge the wind bores
down on everything which is small and settler
more dense the route—naked
the abyss forces us closer …
Having, in a sense, wiped out the distance between past and present, we descended.