The Barnards seemed not to take full advantage of the farms between Zoetmelkes Valley and Riviersonderend—Jose Berman remarks on their "ignorance of the country and lack of a guide [that] had deprived them of an interesting day visiting farms"(73). Lady Anne's Diaries are unclear as to whether they stopped at the farms Lindeshof and Het Ziekenhuys. We were pressed for time. We stopped a few miles from The Oaks to see what is left of Het Ziekenhuys—a grotto in the hillside that was once a spot at which local farmers left sick animals. In 1803 Heinrich Lichtenstein (Travels in Southern Africa) notes that "one of the farms, which has a small grotto in the rocks close by it, to this day retains the name of Het Ziekenhuys (the infirmary), because the travellers used to leave their sick in the grotto to be nursed there till their return" (Berman, In the Footsetps of Lady Anne Barnard [Cape Town: Human & Rousseau, 1990], 70).
Our maps were not detailed enough to allow us to isolate individual farms along the Zonder End River at which the Barnards may have stopped. We had an appointment with Mrs. Jamien Havenga and Mr. Johan Krieg at the Drostdy Museum in Swellendam and we pressed on.
Swellendam, on the Breede River, is the 3rd oldest town in the country (after Cape Town and Stellenbosch), named in 1747 for the then Cape Governor Swellengrebel and his wife Helena ten Damme. The Drostdy at Swellendam was completed in 1747 in the style of a Cape Dutch T-shaped house. In the eighteenth century the town was transformed from a VOC (Dutch East India Co.) outpost to a centre of farming, travel and civilization; its environs were inhabited by Dutch pioneer farmers, German missionaries, traders and craftsmen of European origin, French Huguenots, Khoikhoi, clans of Hessequa tribe encamped on the banks of the nearby rivers, and slaves; and even under the British the Swellendam Drostdy remained the seat of local government (see Village Life, 14 (Oct.-Nov.2005), 14-18). (http://en.wikipedia.org/wiki/Swellendam)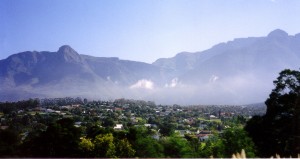 Photo by Andres de Wet, at the English Language Wikipedia
The Barnards arrived in Swellendam on Saturday May 12th. Not finding the landdrost Anthonie Faure at home, "after a good Nap" (344) they moved on directly to the farm of Jacob van Reenen at Slangrivier, knowing that that they would return to Swellendam after a (triangular) excursion that took them to several farms further east towards the coast—Rotterdam, Slangrivier, Witsand at the mouth of the Breede River, and back to Swellendam via another van Reenen farm (belonging to Dirk Gysbert, Jacob's brother) at Rhenosterfontein.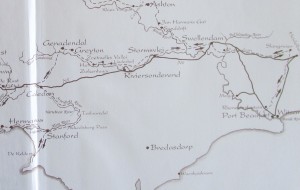 Lady Anne is especially warm and positive about Jacob van Reenen (1755-1806) and his family, and about their reception at Slangrivier. "We saw at once that we were both welcome and expected" (346); the farm was "different from the common Style of Dutch architecture" (346); the women "here had one perfection which to me is a great one, an open and sweet countenance, no solicitude about any thing and tolerable good teeth, a very rare thing" (346); at Slangrivier the Barnards were given the "best Supper I ever eat in my life" (347); Andrew enjoyed the hunting of "Zebras and other wild Animals we had never seen before" (347); the weather was "charming" (352); they picnicked on the banks of the Breede River, sketched by Lady Anne (below) where "there was much fragrance from the bushes, a thousand agreeable but old fashioned smells" and where they saw eagles and "Bucks, Pous, and Ostriches" (352).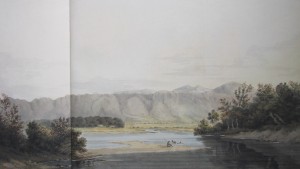 The mouth of the Breede River visited with Jacob van Reenen
Furthermore, in Mrs. van Reenen's dry sense of humour Lady Anne saw "the first sparkle of mind that I have ever read in a Dutch woman's eye since I came here" (355). Indeed, the Barnards joined in extended conversation with van Reenen and his family (rare in other locations due to the language barrier), while van Reenen told them stories about his romantic and remarkable life in Europe.
Although the Barnards were shocked at the callousness of the farmers towards the slaves ("that [he] was a human creature … a fellow creature … a Man … a Soul … never came into his [van Reenen's] head" [356]), yet the Barnards liked the van Reenens: "We both united in liking this Man, his Wife, his Children, his horses, all of his ways, all his Tenets"—and they felt comfortable with them: "but we did not pay him any compliments, he saw we did not, many words are not necessary amongst honest people" (355-56).
For our part, we were unable to follow in Lady Anne's footsteps around the triangular excursion referred to above (Rotterdam, Slangrivier, Witsand, Rhenosterfontein), contenting ourselves by stopping in Swellendam, where we were warmly received, and where we spent a fascinating and informative afternoon with Mrs. Havenga and Mr. Krieg, meeting them in the museum (http://www.drostdy.com/).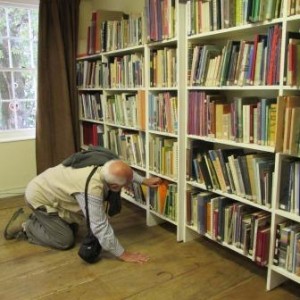 We consulted the museum's collection of books on local history and typography, traced eighteenth-farms on a huge large-scale map of the area in Mr. Krieg's office, and learned about the history of the Drostdy and other important historical buildings (such as the church and the goal).
Mr. Krieg and Mrs. Havenga then gave us a very detailed tour of the Drostdy and outbuildings …
… showing us (below) the sitting room, the dining room, the office …
… and (below) the room used for religious worship and legal procedures in the eighteenth century, all known to and visited by the Barnards.
As Leslie Howard notes of the present day Drostdy, "[it] reflects the appearance it had under the occupancy of the last resident magistrate. It is furnished with a remarkable collection of late 18th century and early 19th century Cape furniture. The Ambagswerf or Trades yard houses a collection of tools and artefacts relevant to the trades of centuries gone by, such as those of wainwrights, coppersmiths and blacksmiths" (Village Life, 17).
After the hospitality of the van Reenens, Lady Anne is a little disappointed by what she finds at the Swellendam Drostdy ("we retired to rest and said "this is not van Rhenins" [364]) …
The building today (used as exhibition space) in which Lady Anne slept in 1798, a short distance from the main Drostdy …
… and Lady Anne was also less able to communicate with her hosts, because "the Landrost could talk only a very little French—the Vrows nothing but Dutch" (360). Still, the entries in her Diary made while in Swellendam are among the most engaging and informative, and Lady Anne also found time to sketch the people and the landscape, sketches that are among the most evocative in her oeuvre.
For example, Lady Anne is struck by the new minister at Swellendam, Johann Heinrich von Manger (1767-1842), who had been actively involved in stirring up republican sentiment in Graaff-Reinet in the months before the surrender of the Cape to the British in 1795, although the inhabitants of Graaff-Reinet were rebelling against all forms of imposed control, and not just that of the British. Lady Anne is interested in Rev. Manger's rebellious past, and his knowledge of the cultural life of the "Caffres." "Tho' his French was no better than my own," notes Lady Anne, "I could puzzle out anecdotes to entertain me" (362).
Lady Anne is entertained by Rev. Manger's appearance: "To have look'd at the puritanical round face of him, with an upper lip as long as a petticoat and cambric bands as long as little aprons, one might have conjectured him 50, but I believe it would have been a mistake of 25 years" (361). But her aversion to Rev. Manger's face did not stop her drawing the young clergyman, but drawing him from behind. She remarks: "The little parson not deterred by his native homeliness next requested me to do him. It was a dangerous measure, I durst not attempt him at first, but his back … in his great Coat, and with a Sermon in his hand which he seemed to be studying I thought I might venture on… Oh how I tried to add charms and diminish ridicules … it was like, but I failed of pleasing … people don't choose to be done as they are but as they would be, it is a wise measure to take backs as I do, I should sketch myself out of every bodys affection if I was to take faces" (365-66).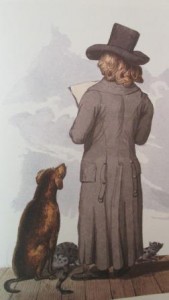 Nonetheless, she still seemed to offend the Rev. Manger: "I now saw with grief that I had somehow lost the heart of the predikant, I fancy by my picture" (366). However, to some extent she compensates for this infelicity by expressing her interest in the inaugural sermon he was to preach in the room we visited at the Drostdy (see images above).
In this room, pictured again below and still very suggestive of a life gone by, Lady Anne was impressed both by the occasion and the clergyman himself: "It is odd that this disagreeable predikant should sing so well! … but he does. I must compliment him on that … In compliment to the Clergyman, to the Landrost—the company and the occasion I dressed myself a little as did Anne Elizabeth, the upper seats were left for us and we placed ourselves when the rooms were full. How pleased I was to see this assembly … description could have given me no adequate idea of a Swellendam congregation… The Creatures voice was good, it was a Sermon longer than himself and from time to time he wept at his own eloquence. Mr. Barnard said he understood enough of it to think it was a proper one and well wrote. The audience was reverend and attentive…" (367-68).
Swellendam was also a congenial place for Lady Anne to sketch, and she has left several very powerful and evocative representations of people and place:
"I attempted to take a sketch of the house, after breakfast from the Stables, attended by the little Girl and her Cousin, the place itself has a better view from it than it affords as a view … The House is inferior in size to the Landrosts of Stillin-bosh, being single, the other is double and of a better appearance by much. I tried to find a good place to draw from, but could not, so fixed myself I could find a stone for my seat" (364).
Still, she is able to capture the stunning geographical location of the Swellendam Drostdy and some of the outbuildings (including the building in which she slept – on the right in the image below).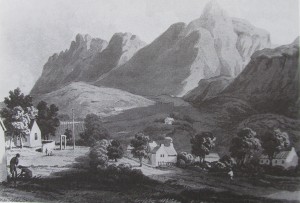 On the same occasion she notes, "The sun shone bright and hot, a couple of African Slave girls, Sisters, stood between me and it, unconscious of any thing but how much pleasure they had in being of the party. I drew them, and they did not know it…" (364).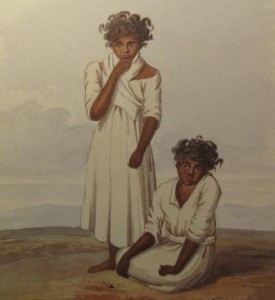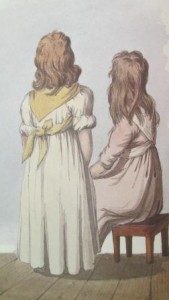 At the request of "Madam Landrost" Lady Anne draws the "little Girl and her Cousin," but "as there was no face her Mother did not seem to like it, nor asked me for it which I was glad of" (366).
While drawing the girls Lady Anne "had observed a pretty copper coloured Slave working away on the ground, in the slow indolent way the Slaves work here; … gently pulling out thread as if she could no much [care] whether it came out or no… and throwing me a timid conscious look from a pair of fine black eyes. She was a picture as she sat…"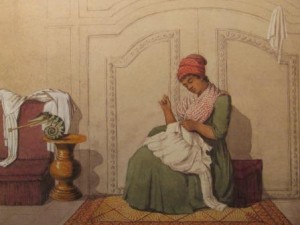 We wonder what is to be made of the fact that Lady Anne draws the slaves from the front, enabling us to see their faces and perhaps to acquire some sense of their personalities, while she draws the white girls and the clergyman from behind.
Lady Anne's attention is also caught by the geographical and social situation and natural environment of the Swellendam Drostdy: "I expected Swellendam to have been very different from what I found it, a sort of savage Town or village composed of the Houses of settlers and the Craals of Hottentots, perhaps a few Caffres intermixed … I might have known if I had given myself the trouble to think that there is no such thing in Africa as a village the village of Stillin-bosh [see Lady Anne's image of Stellenbosch below] expected [sic]…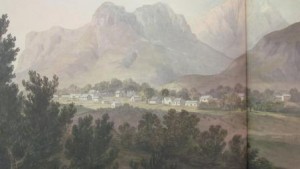 … or any two families to be seen living near each other, far less a Hottentot or a Caffre to be found possessing an independent Hut of his own near a Dutch mans—each family here is a Kingdom and each Kingdom a monarchy. The Drostdy or Government House with its offices, Slaves Lodges (and at a distance the house belonging to his Secretary and one or two smaller attached to the inferior Offices) compose the whole of the place, there is also a sort of publick prison I believe for felons or deserters, ill secured enough" (365).
But Lady Anne cannot resist remarking on the stunning natural beauty of Swellendam: "The Mountains rise nobly at a couple of miles distance or so, their bases were lost in a blueish vapour, greenish hillocks rose between us and them, 'tis between them and the Mountains in a glen much the same as at Sweet milk Valley the woods to be found which have been reckoned so luxuriant … Mr. Barnard and the Gentlemen had gone out a hunting or rather shooting, he had passed thro' those woods, and saw much fertile and well watered country, he said it was the finest Situation for settlers of any he had seen" (365).
We concurred with these generous and appreciative sentiments, having been deeply impressed both by the the natural beauty of the Langeberg and with the kindness of all who had interested themselves in our activities. Our "hunting" was over for the day – a very long, full, and fascinating day.
We checked in to the comfortable (and economical) African Shades B&B (http://africanshades.co.za/), within walking distance of the Drostdy.
We were looking forward to a quiet dinner and some reading and blogging. But suddenly all of the lights went out, part of the nation-wide rolling system of power outages, locally known as "load shedding," as a way of coping with the shortage in electricity supply due to the number of generator units out of service for repair.
So we resorted to candle light to work at the computer …
… and enjoyed the opportunity to dine by candle light at the Drostdy restaurant.
Our waiter (in an orthography that left something to be desired) noted on the bill the reasons for our having to pay in cash!