Why Lady Anne Barnard?
In May 1797 Lady Anne Barnard wrote as follows in her journal:
"All I asked as a reward for my correspondence in his [Lord George Macartney] absence, which I had two opportunities of continuing was that he should accompany me to the top of Table Mountain before he went, where no white Woman had ever been … This he agreed to with Joy, as a Botanist & Mineralogist and Barnard to render the plan still more interesting to me, procured a dozen Slaves to carry up a tent … mattress … Blankets, a little Table and a camp stool together with provisions that we might sleep on the top of the Mountain and see the Sun set & rise, when I could have the opportunity of making what drawings I pleased." (Anne Barnard, Journals, ed. A.M. Lewin Robinson, Margaret Lenta & Dorothy Driver. Cape Town: Van Riebeeck Society, 1994, pp. 217-8)
Lady Anne Lindsay (1750-1825) was the daughter of James Lindsay, 5th Earl of Balcarres, and in 1797 her connections with fellow Scot Henry Dundas, then Minister for War and the Colonies, procured for her husband, Andrew Barnard, the position of colonial secretary to Lord George Macartney (1737-1806), the first British governor of the Cape of Good Hope.
I had heard of Lady Anne Barnard, and as a child had even seen her "bath" in Kirstenbosch Botanical gardens, but it was not until I started researching Macartney's presence at the Cape, as part of a study of his international career as a British diplomat, that I realized the impact Lady Anne had had on life at the Cape Colony, how instrumental she had been in facilitating Macartney's political and cultural success in his short period at the Cape (1797-98), and how interesting and dynamic Lady Anne was in her own right. Through her eyes, in her diaries and her watercolours, I began to acquire a more intimate, even visceral sense of what life was like in this geographically pivotal and remote place in c. 1800, a crucial moment in the history of East-West relations. If only
It was then that I was awarded the Harold and Gladys Cook Travel award at Bucknell to "encourage travel for the exploration of intellectual or creative interests other than primary research" — and I thought that this would give me the perfect opportunity of literally walking in Lady Anne's footsteps. Not only would I make a tour of some of the towns in the Western Cape that she had visited as Macartney's unofficial emissary — such as Stellenbosch and Swellendam — but I would also visit the Moravian Mission at Genadendal (which still exists), and I would climb up Table Mountain, taking the same route up and down as Lady Mary did in the company of Sir John Barrow and a variety of soldiers and servants in May 1797.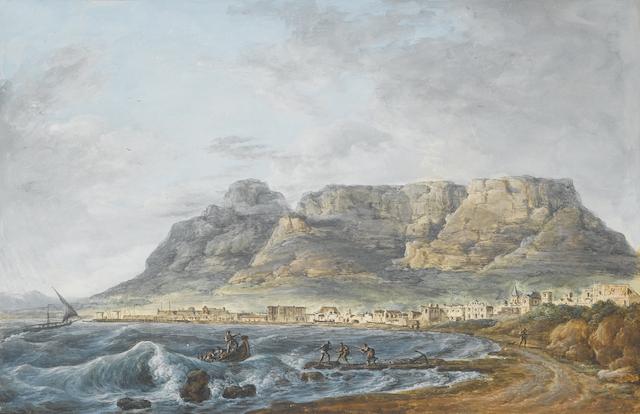 View of Cape Town with Table Mountain beyond. English school, c. 1790.